In today's fast-paced world, efficient record-keeping is essential for maintaining organized data and ensuring smooth operations. Among the many record-keeping methods available, utilizing drawings and data control procedures is an effective approach. This article will delve into the world of record-keeping techniques, focusing on integrating drawings and data control procedures to streamline your processes.
In this article, I will discuss 9 very simple and effective record-keeping techniques, documents, and data control procedures.
Documents are a set of information about a project or a project's situation recorded in drawings, charts, photographs, and written or legal official papers stored as printed or on a computer. These documents are the history of the project or the organization.
Data Management is also termed document management, document control, Digital Asset Management, Content Management, Enterprise Content Management, Document Imaging,  and Records Management.
You may also want to read.
Download Free Lisp Files For Level Interpolation Slope and Grade
Download Free AutoCAD Lisps for Surveyors
CAD Blocks, free download Bicycles, Bikes
Who Should Read This?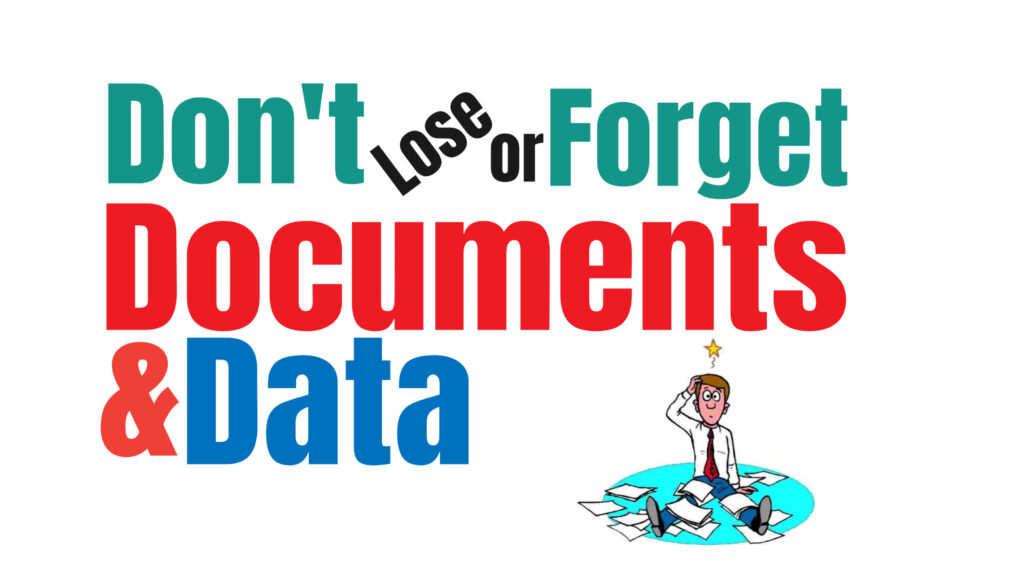 This article caters to individuals who have grappled with the familiar scenario of hunting for elusive files or transitioning into roles with unclear data paths. It addresses the universal need for streamlined document control.
Most of us have experienced the situation when the whole office searched for "that file," which was supposed to be somewhere with us, but we could not dig it out of all the stuff on our computer.
Or maybe one of the officers has quit, been fired, retired, or transferred, and someone else has to continue his job. Most of the time, this new person cannot figure out where the person is locating the data, information, and documents.
This often results in missing data or losing the information or the tasks carried out by that person.
Unfortunately, most organizations don't pay serious attention to documents, drawings, and data management until they really need "that file" and can't locate it.
Failing to provide the required documents on time may cause fines, loss of business, or damage to an organization's reputation.
Technical data management is essential for executions within every organization and is a vital function for the successful management of any office.
Mindset
Centralizing document and data management standards hinges on a singular purpose: "Facilitating swift access to accurate and legally recognized information."
The aim of setting standards for documents and data management is just one thing:
"The easiest and quickest access to the record of information in its original and legally official form"
As in this era, all of us are actually working on making things easier in error-free (hopefully) situations.
Hint
Numerous software solutions exist for document control, both free and paid. Nonetheless, the emphasis remains on simplicity, user-friendliness, and sustainability.
But it is strongly recommended whatever software or procedure you adopt, it must be simple and usable by all the users and, most importantly, durable.
Complicated procedures and software for document control must be avoided. Some of the best practices are discussed below;
I Recommend You Reading These Posts
Stairs and Outdoor Design sample AutoCAD drawings and CAD blocks
Download Free Lisp to Display the Area of Polylines in AutoCAD
CAD blocks Computer, Plumbing, Lighting, Electrical, and Firefighting Symbols free download
Documentation
"Start from scratch" is the usual method for initializing the process of making a documentary. This is the first time you will document a letter/chart or a drawing, but using one "Template file" is recommended for professional documentation.
For instance, for text documents, a text file with all the necessary repetitive procedures, like the assignment of headers,  footers, and page setups, should be kept ready to use at any time. 
For drawings, a template drawing file with all the repetitive procedures, like external references attached and drawing styles assigned, will help focus on the actual matter instead of making the same drawing adjustments again and again in every drawing. 
A copy of this file is to be used for further production. This template file method will help reduce the time to prepare documents or drawings.
Moreover, this technique will set a standard for your styles, which will be updated for perfection as time passes. This template file could be kept on the desktop easily and quickly.
Data Storing & Directory Hierarchy

Every piece of information concerning a situation or organization is precious. So, storing this information and making it available to all concerned parties is essential. 
Electronic documents give a logical name while saving a document in a place where it could easily be located by any of the users, or at least the location where someone can look to find such type of document.
Drawing files should be numbered in accordance with a drawing numbering system or file naming conversion, which should include activity/group code and numerical series, etc. 
All the drawings and documents must be saved in a systematic directory hierarchy for the project drawings and supporting documents.
You may want to learn How to Edit Multiple Attributes at Once In Autocad.
Best Practice to Store and Organize Your CAD Files
I made a master folder on my computer with multiple folders of different categories.  I make a separate folder for incoming data and outgoing data in the master folder.  
In both incoming and outgoing folders, I create folders of the current year, like 2019, and in this 2019 folder, I create folders of every month, and then in every month, I add 30 folder names as days of that month. This will tell me what data was processed on what date.  
Another option is to place all the folders in one outgoing or incoming folder, with the name of (year-month-date), so it will look like (2020-08-15).
All of the files on this date will be placed in this folder. Moreover, this type of data can be sorted by dates and time.
Master List of Documents
A master list or log of drawings and documents must be kept up-to-date to track the documentation process. This list should include all the information about the documents.
Submittal number, Date of submittal, Date of approval, Status of the document, Name of the author, and all the necessary information must be included and updated in every phase of the document circulation between concerned parties.
Submittals/Outgoing Data
Any outgoing data, while making submittals or sending the document for review, it is recommended to keep this copy of the document in a separate directory, named as the concerned parties and under sub-directories which will mention the year, month and day of document initiation, submission, and approval.
The directories will be named by date/time. This will help find the contents of any outgoing data or document in its original form, which could later be used for making revisions and vice-versa.
Revisions
Always save revisions under new names instead of overwriting the original (e.g., "My Document rev 1.doc"). Using the "Save as" command instead of the "Save" command is a foolproof technique for saving each version of your document separately.
Moreover, highlighting the changes in the revised document for ease of reading and understanding the changes.
Update the history of the revisions each time in the document log or master list of drawings/charts/documents. All the revisions must be identical.
Validation and Approval
When all of the concerned parties agree to the contents of a document, it is referred to as approved and ready for implementation.
At this time, be sure that the document being approved is the latest version, and all outdated copies must be collected as soon as possible. The approved documents must be periodically reviewed to ensure they are still workable.
Distribution & Availability
Distributing approved documents to all employees for implementation is also a critical procedure. Collect all of the document's previous versions before distribution to avoid misunderstanding or duplication.
Protecting electronically distributed documents is essential to avoid changes or edits by unauthorized personnel. The best practice is to convert the document to a read-only format before sharing it with the network.
Nowadays, the internet is a common means of sharing data and documentation. Electronic distribution of documents is easier, faster, and more convenient as most people use computers regularly. Reducing the use of paper saves trees.
Backup and Restore
Documents are a very important asset for a company, firm, or project containing important information.
Losing the data or document means an information gap. Therefore, keep a backup of all the important documents and data regularly.
Make it work for you.
Once you have decided on the procedures for controlling your documents, it is very important to ensure that all the users, especially the Documents Management/Control Team, follow the procedures very strictly. Implementation is an essential part of the success of an idea.
Some Related Posts You Should Read
Download Carrom Board CAD Block Free
Download Free LISP Files for AutoCAD
AutoCAD Lisp File For Coordinates Free Download
Conclusion: A Journey of Mastery
Efficient record-keeping is not just a practice; it's a mastery. By integrating drawings and data control procedures, organizations infuse precision and accessibility into their core operations. Navigate this journey with simplicity and structured methodologies, and watch your document management thrive.