Discover these proven ways to monetize your CAD drawing skills and turn your passion into profit. From freelance opportunities to launching your own CAD services business, this comprehensive guide will show you how to maximize your earning potential in the lucrative world of CAD drawings. Start making money doing what you love today!
Learn how to leverage the power of professional CAD services to increase your revenue and grow your business. Explore proven methods for generating income through CAD outsourcing and take your financial success to new heights.
CAD outsourcing is one of the most popular freelance activities on the internet. It's one of those areas where not much has really been said about the concept, but this is starting to change a bit with some big companies. CAD outsourcing is where companies pay an outsourcer/freelancer to complete a specific task for them.   
In this article, I will tell you 10 ways to make money from CAD outsourcing. Many architects are finding ways to make money by designing CAD drawings.
For those who already know CAD, they can start a business offering their services. There is a lot of CAD work available for people willing to do it, but it's difficult to find a job in this field.
How To Make Money With CAD Outsourcing?
To make money with Autocad outsourcing, you need to find a company that will pay you to do CAD work for them. This is where the challenge comes in because it's hard to find companies who are willing to pay an outsourcing company to do CAD work for them.
With CAD outsourcing, individuals can make money doing what they are passionate about.
The simple one-line formula to getting hired as a freelance CAD services provider is to invest your time to excel in your skills. Learn as many CAD programs as possible and learn to implement the software in your targeted industry. Connect with relevant people and showcase your expertise.
Different CADD Software is used in designing 2D and 3D drawings and models for products, houses, infrastructure, buildings projects, and many other industries. If you are looking to make money from the CADD at home or even if you have a job and you can spare some time from your office work.  
Being proficient in the CAD software application in different industries, and confident to work on your own; there are dozens of ways and opportunities to utilize your extra time.
Where To Start
If you're interested in becoming an Autocad professional, you need to get proficiency in this software first.
This comes only with experience and isn't something that is hard to accomplish. You will polish your expertise while you work on your ongoing projects.
Keep on learning and keep on glowing. The below techniques will help you find cad jobs online.
How To Become a Freelance CAD Designer?
CADD (Computer-Aided Designing and Drafting) is easy to learn at any age. It is not required to have any degree or diploma to work as a drafter and it is very easy to learn. You just need to get certified in your targeted CAD software.
Learn and practice as much as you can and work on dummy projects to polish your expertise. You can also learn to use the software online, at home at any time.
There are many websites that offer free CADD courses, such as Udemy and you can also find full courses on YouTube as well.  
To maximize your earning potential, it's useful to get as many different types of certifications as possible.
This will make you a more desirable candidate for the highest-paying cad jobs and increase your chances of earning more money for your work.
You may also want to read Top 20 Websites to Download Free CAD Blocks
What is the most widely used CAD software in the industry?
AutoCAD is the most widely used CAD software in the industry. It was originally developed for use by engineers and draftsmen but has since been adopted by a wide range of industries. Below is a list of some of the most popular CAD programs being used in almost every industry of life whether it is construction, medical, or agriculture.
MicroStation (Bently Systems)
AutoCAD (AutoDesk)
SolidWorks
Inventor
Revit
Civil 3D
CATIA
Creo
SIEMENS NX
Can AutoCAD make you rich? Yes, you can make handsome money by outsourcing your CAD services. Here are some of the opportunities that you can avail yourself to Make Money from CAD Outsourcing:
1- Build Your Own Website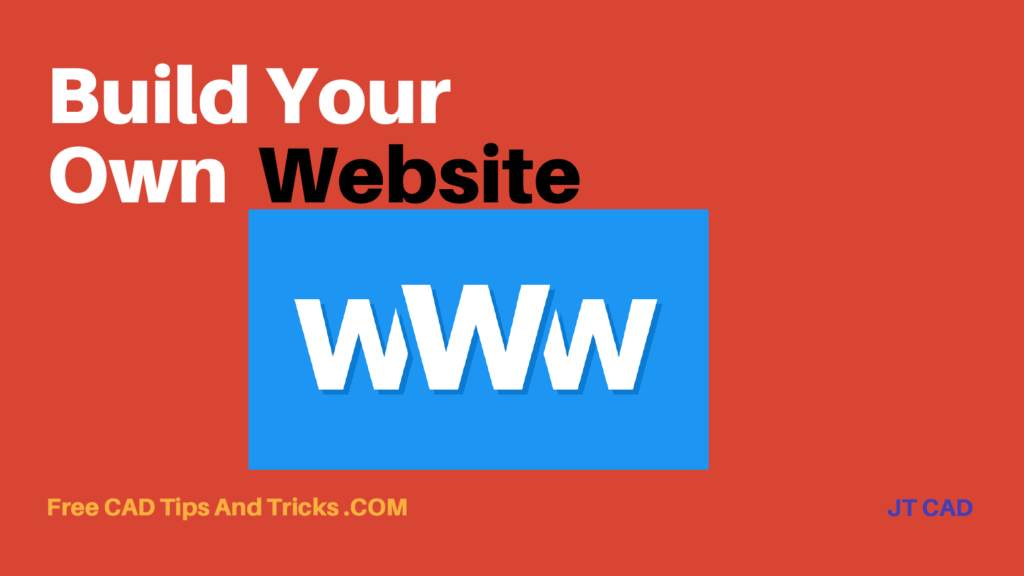 Create a professional website with a blog and portfolio to showcase your skills.  A portfolio website is just like an online store where you can offer your services to your clients. Make a website for yourself and set it up with samples of your work. 
You can use the free service by Google Sites, WordPress, or Blogger and set up your website. It will cost you to buy a domain for normally $10 per year and $10 for hosting per month if you want to own a domain for your website.  
If you can build a good portfolio on your website, it can bring good business to you. Make your portfolio, describe your skills, and showcase your fixed prices on the website let's say $4 per hour or as you think is good for your work. 
You can link your freelancing website profiles on this website to sell your services. Your website can be very much helpful in making money from CAD outsourcing.
Ok, maybe you are thinking you are not able to start your own website, here is a piece of alternative advice. Polish your LinkedIn profile to look professional the best way you can.
Showcase your skills and make sure you treat your LinkedIn and other social media platforms as your brand pages. This will bring your target audience to your business. Try other similar platforms as well. You can also make free web pages on Medium.com.
2- Appear Everywhere
Autocad is a digital design and drafting program that is used to create 2D or 3D models. In this digital world, almost everyone needs a design or 3D model of something in almost every field they are working in, this makes your chances double. You only have to show yourself off to make sure people around you know that you are available for work.
Especially hit social media platforms; start the online activity by joining online forums. You will meet engineers and designers who are already working in this field, so you will gain a lot of knowledge by asking them questions and sharing knowledge in this regard.
3- Freelancing
While working online you can find cad jobs from home. It is similar to making your portfolio on the website and showing your skills. There are clients, who search for your skills. If someone likes your profile and the way you have created your gigs, they will contact you for work A freelancer is an individual who is self-employed and works outside of the traditional 9 to 5 office setting.
You can earn extra money by working as a freelancer. Working as a freelancer CAD expert can be a little tricky, but it's all about how much time you spent on it. If you spend some time on the internet and try to be consistent with it then you can get some good work for yourself, and earn good money. Learn how to sell your cad services online. There are many resources like youtube and other blogs for learning to freelance and sell your expertise online.
There are many ways to make money from CADD Outsourcing and there are many websites that offer us the opportunity to sell CADD drawing services as a freelancer, such as freelancer.com, fiverr.com, upwork.com, houseplan.com, and many others which you can search in Google. As I mention a few websites above, let's see how we can Make Money From CAD Outsourcing through these websites.
Freelancer.com is the website where people and companies place work and you just need to sign up and build your profile as per your skills and experience. Make sure you select your category as "Engineering". search for designing and drafting-related jobs and bid for them. If the client is satisfied with your profile and bid they will award you with that work and you will make money.  
Fiverr.com is different from freelancer.com. With Fiverr, you have to build your professional profile and create gigs that showcase your skills. You can make multiple gigs according to your expertise. The client will contact you for work. You can also post bids for jobs posted by clients.  
Upwork.com is a little similar to freelancer.com. Here also you need to create an account and profile as per your skills and work experience and you can search for work related to your skills and bid for it.  
There are many other platforms as well like; Indeed.com, Guru.com, and WorkChest.com.
4- Start Your Own Small Office
Are you passionate about CAD drafting and looking to turn your skills into a profitable business venture? Starting your own CAD drafting business can be an exciting and rewarding endeavor. With the growing demand for design services in various industries, there is ample opportunity for entrepreneurs in the CAD industry.
Buy a small office near to your house. It could be one room decorated as a designer's office. Reach out to your friends, family, teachers, and colleagues and tell them about your work and ask them if they know someone who needs CAD services, they can refer them to you. You also use the office CADD Software training center as well Teach students and when you get some good work your students will help you to complete your job.
Entrepreneurship in the CAD industry allows you to showcase your creativity, technical expertise, and problem-solving skills. By starting a design firm, you can work on diverse projects, collaborate with clients from different sectors, and build a reputation for delivering high-quality designs.
To embark on this entrepreneurial journey successfully, it is crucial to have a solid plan in place. Begin by defining your target market and identifying the specific services you will offer. This could include architectural drafting, mechanical design, electrical schematics, or any other specialized area within CAD.
Next, consider the resources you will need to start your business. This may involve investing in professional-grade software and hardware equipment that meets industry standards. Establishing solid relationships with suppliers or manufacturers can ensure seamless project execution.
Building a solid network within the industry is also essential for gaining clients and referrals. Attend trade shows or join professional organizations related to CAD drafting to connect with potential customers and fellow professionals. Utilize online platforms such as social media and professional networking sites to showcase your portfolio and attract attention from potential clients.
As with any new business venture, developing a comprehensive business plan that outlines your goals, strategies for growth, financial projections, and marketing strategies is crucial. This will serve as a roadmap for success and help you stay focused on achieving your objectives.
Starting your CAD drafting business requires dedication, perseverance, and continuous learning. Stay updated with the latest advancements in technology and software tools used in the industry to provide cutting-edge solutions to your clients.
By taking advantage of entrepreneurship opportunities in the CAD industry and effectively leveraging your skills as a designer or drafter, you can establish a thriving design firm that caters to clients' needs in various sectors. The possibilities are endless, and with the right mindset and preparation, you can turn your passion for CAD drafting into a successful business venture.
How do I start a business in AutoCAD?
If you're interested in starting a business with AutoCAD, It's important to know what AutoCAD is and what it can do. You need to understand the limitations of AutoCAD and you need to know if you have the skills that support your desire to be a part of a business with AutoCAD on your team. The first step would be to decide on a CAD business idea. Follow the steps below to start your own CAD business and narrow down your options:
Consider what type of product or service you will offer.
Consider what type of customer you will serve.
Consider the price point for your product or cad services.
Finalize your freelance cad hourly rate.
Think about how much time and effort it will take to produce your product or service.
Think about whether you will need to hire employees.
Consider whether you will have a physical location for your business (e.g., retail store, office space).
Think about what kind of payments you will accept.
Think about whether your business will need to be licensed, bonded, or insured. Consider how much money you have available to invest in your business.
Think about how much money you will need to cover your operating expenses (e.g., rent, utilities, and supplies).
Consider whether you will need capital in addition to your own investment to get started.
Consider whether you will need to borrow money or receive financing from investors.
It's important to understand your own strengths and weaknesses and to bring on the right people to help you build those strengths.
5- Reach Designer Firms
To get freelance jobs from designer firms, you will need to send them your portfolio and resume. Get connected to the people and companies who are already working in this field. You can contact them by using phone directories, forums, newspapers, Google, and their social media pages.
Explain your work and tell them if they need any kind of help with freelance cad drafting services. You can offer your services at a reasonable price as a part-time or full-time employee. Maybe some of them need your help to complete their projects. It's anyhow a win situation for you; because, first, you earn some money, and second your gain professional experience and knowledge, which will improve your portfolio.
You can also look for opportunities on sites like Upwork or Freelancer.com where designer agencies are actively looking for new talent.
In the world of interior design, space planning, and furniture layouts play a crucial role in creating functional and visually appealing spaces. However, this process can often be time-consuming and complex. This is where the assistance of AI technology comes into play, revolutionizing the way interior designers approach space planning.
AI-powered tools are now available to assist interior designers in creating furniture layout plans and optimizing space utilization. These tools utilize advanced algorithms to analyze room dimensions, furniture dimensions, and other relevant factors to generate optimized layout options. By taking into account various design principles and considerations, these AI tools can suggest efficient furniture arrangements that maximize functionality and aesthetics.
In addition to providing support in space planning, AI technology also offers valuable assistance throughout the entire interior design process. From providing access to vast databases of furniture options to offering virtual 3D visualization capabilities, these tools empower designers with a comprehensive set of resources.
By leveraging these AI-driven solutions for interior design support, professionals can streamline their workflow, save time on manual calculations and iterations, and ultimately deliver exceptional results for their clients. With the ability to quickly generate multiple layout options and experiment with different configurations, designers can make informed decisions that align with their clients' preferences while optimizing space utilization.
In conclusion, AI technology is transforming the way interior designers approach space planning and furniture layouts. By harnessing the power of advanced algorithms and data analysis, these tools provide invaluable assistance in creating functional yet visually stunning spaces. With their ability to optimize layouts based on various factors and offer a wealth of resources at designers' fingertips, AI-powered solutions are revolutionizing the field of interior design support.
6- Advertise your work
Freelance jobs are plentiful, but getting a job is much more difficult than finding work. It's important to advertise your services and build relationships with other freelancers in order to find work and make connections.
Jump into the business seriously and invest a reasonable price in advertising your services. Put signboards in the crowded area, make a business card, and most importantly advertise work on social media, such as Facebook, Twitter, and YouTube. From social media, you can get a lot of work. Sign up at LinkedIn.
This will also help you to meet many people related to your field from some of them you can gain a lot of knowledge and you can also get some work from LinkedIn. Avoid sending spam emails to everyone, it is really annoying.
7- Fix Your Price
AutoCAD is one of the most in-demand and highest-paying forms of freelance work. It's also one of the highest-paying forms of freelance work out there.
Hourly rate for AutoCAD freelance jobs An hourly rate for AutoCAD freelance jobs is the amount of money an individual will be paid per hour. This number is commonly used as a benchmark in job negotiations and when calculating how much an individual will be paid.
There are a variety of ways to make money as a freelance cad designer. One way is to bid on projects that match your skills and experience. You can also offer your services through online marketplaces or social media. Additionally, you can charge by the hour or by the project.
Fix your price for different kinds of tasks in your industry. This will showcase a positive image of you as a professional. Your client will understand that you know your job well. And it will show you an authority in your profession as well. Mention your packages on your website and portfolio.
8- Sell Your Projects Online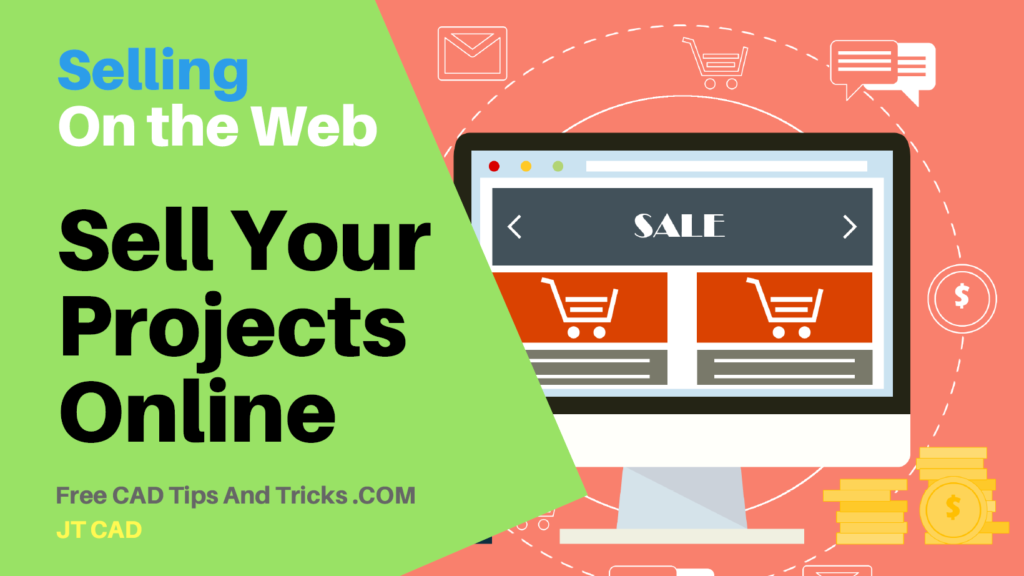 Another way to make money from CAD outsourcing is by selling your drawings directly. This can be done through online marketplaces or by contacting companies directly. If you desire to sell your drawings, you should be able to sell them through your own website or through an online drawing service like eDrawings.
Make ready different kinds of designs, 3D models, cartoon characters, and objects according to your field and sell your final products online. Different websites offer this kind of service. These sources offer their services in return for some commission when you do business with them.
Creating and selling CAD templates and design assets can be a lucrative opportunity for designers and CAD professionals looking to generate passive income from their digital products. With the rise of online marketplaces dedicated to design assets, it has become easier than ever to reach a global audience and monetize your expertise.
By offering CAD templates for sale, you can tap into a growing demand for pre-designed elements that can save time and effort for other designers. These templates can range from architectural floor plans to 3D models, providing valuable resources for professionals in various industries.
One of the key advantages of selling CAD templates and design assets is the potential for passive income. Once you have created your templates or assets, they can be listed on popular marketplaces where interested buyers can purchase them at any time. This means that you can continue earning revenue even when you're not actively creating new designs.
Furthermore, participating in a design assets marketplace allows you to showcase your skills and establish yourself as an expert in your field. Positive customer reviews and high sales volumes can boost your reputation, attracting more potential buyers to your products.
In conclusion, creating and selling CAD templates and design assets presents an exciting opportunity to leverage your skills while generating passive income. By tapping into online marketplaces dedicated to design assets, you can reach a global audience and establish yourself as an industry expert while earning revenue from your digital products.
Where can I sell my CAD drawings?
You can sell your CAD drawings by uploading them to a third-party online commerce website. Many websites will allow you to upload and sell your designs without any upfront fees or commissions.
Some of these websites are; graphicriver.net, turbosquid.com, and unity3d.com never ever try to sell or claim the work from someone else. You can post your designs on these websites; probably you will get clients who will buy your work.
9- Teach Your Skills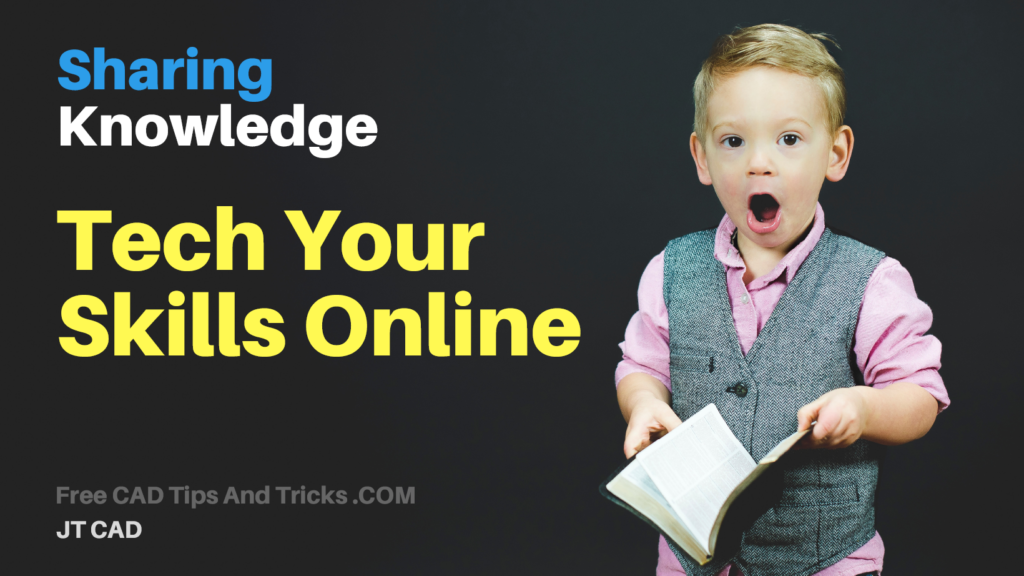 Creating tutorials for others is a good way to earn money, share your knowledge, and improve the world. It can be difficult to find people who are willing to teach, however, so it's important that you create your own tutorials and share them on social media. You can also create courses or workshops that you offer to the public and corporate sectors as well.
Creating tutorials for others can earn you a lot of money. Find the nearest institute or school that teaches software courses and share your experience. Offer to teach there too. Your YouTube channel could become a source of good income if you make YouTube tutorials on different CADD software and monetize it with Google Adsense.
Create online courses in various fields. Such as; 2D courses, 3D courses, and tips and tricks for different CADD software. Make them available through various platforms such as;
Udemy.com,
Skillshare.com,
Adobeknowhow.com,
and Lynda.
Are you passionate about CAD drafting and looking for ways to monetize your skills? Look no further! In this section, we will explore how you can make money by providing CAD drafting training and consultation services.
Google will provide you with many other options. Here is a list of the top 20 websites where you can learn and teach AutoCAD.  
The tutorials are designed for all levels of expertise which makes them ideal for both students who are just starting out with Autocad as well as professionals who need a refresher course on this program. Students will learn the basics of the design process while professionals will learn new techniques for their specific industry.
CAD (Computer-Aided Design) is a crucial skill in various industries, including architecture, engineering, manufacturing, and interior design. As the demand for skilled CAD professionals continues to grow, there is a great opportunity for you to capitalize on your expertise.
One way to generate income is by offering CAD drafting training. Many individuals and businesses are eager to learn how to use CAD software effectively. By providing comprehensive training courses or workshops, you can help beginners develop their skills or assist professionals in enhancing their proficiency. Whether it's teaching the basics of CAD or advanced techniques, your knowledge will be invaluable.
Additionally, offering CAD consultation services can be another lucrative avenue. Businesses often require expert advice on optimizing their CAD workflows or resolving complex design challenges. By leveraging your experience and expertise, you can provide valuable insights and recommendations that will help clients improve their efficiency and productivity.
Furthermore, creating software tutorials can also be a profitable venture. Many people prefer learning through online platforms or video tutorials rather than traditional classroom settings. By creating engaging and informative tutorials on popular CAD software programs, you can attract a wide audience and generate income through advertising revenue or paid subscriptions.
In conclusion, if you have a passion for CAD drafting and want to turn it into a source of income, there are several avenues available to explore. Whether it's providing training courses, offering consultation services, or creating software tutorials – the opportunities are endless. So why not leverage your expertise in this growing field and start making money today?
10- Programming for CADD Software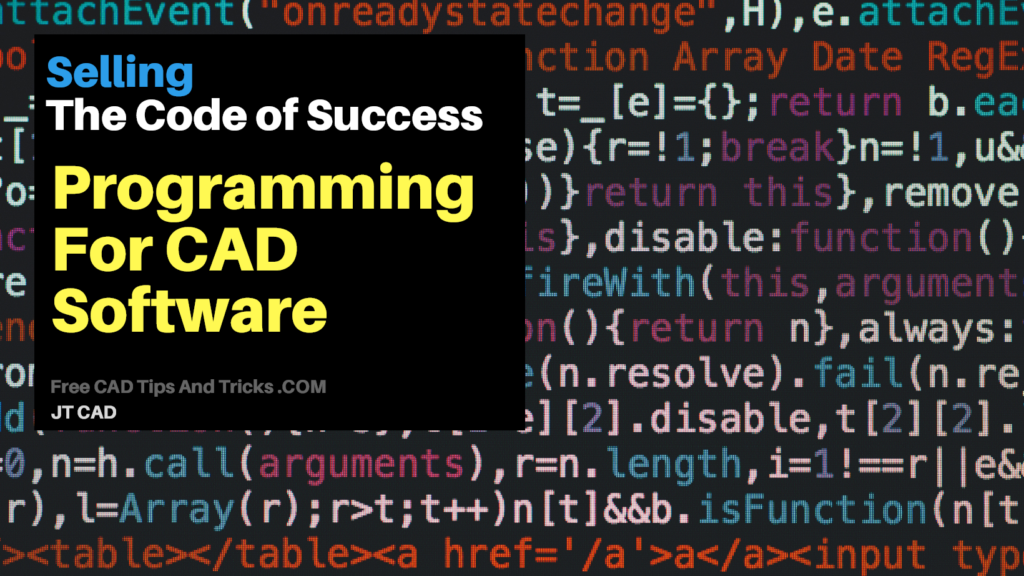 Another way to make money from CAD outsourcing is to write AutoLISP programs for AutoCAD. There are a number of online companies that are looking for visual basic programmers. Once you have written the program, you can sell it to them for a profit. Additionally, you can also help companies automate their CAD processes and earn good money in the process.
Visualize your ideas with the power of AutoCAD. If you are a professional visual basic programmer and you can design modules for CAD this is an extra opportunity for you.
Many people are looking for a visual basic programmer for Different CADD Software online. You can contact them and earn good money from CAD programming and process automation. Write Visual Lisp and AutoLisp programs for your industry firms and companies. Programming is a very profitable technique.
11- Offer CAD Conversion Services to Convert Hand-drawn or PDF Drawings into Digital Format
Are you tired of spending hours manually converting hand-drawn or PDF drawings into a digital format? Look no further! Our CAD conversion services are here to save you time and effort.
With our expertise in CAD conversion, we can seamlessly transform your paper-based or PDF drawings into accurate and editable digital files. Whether you have architectural plans, engineering diagrams, or any other type of technical drawings, our team is equipped to handle it all.
Our paper-to-CAD conversion service ensures that every detail from your original drawing is accurately captured in digital format. We use advanced software and techniques to ensure precision and maintain the integrity of the original design.
PDF to DWG conversion is another area where we excel. If you have PDF files that need to be converted into DWG format for compatibility with CAD software, our experts can efficiently convert them while preserving all the necessary layers, dimensions, and annotations.
By availing our CAD conversion services, you can streamline your workflow, eliminate manual errors, and have access to easily editable digital files. This not only saves time but also enables seamless collaboration among team members working on the same project.
Don't let outdated methods slow down your design process. Embrace the convenience and efficiency of CAD conversion by partnering with us today. Let us handle the tedious task of converting hand-drawn or PDF drawings into a digital format so that you can focus on what matters most – bringing your designs to life!
Best Way to Start Making Money with Autocad 
The best way to start making money with Autocad is by starting a freelancing business. If you are not familiar with the term "freelancing" let me explain; it means that you don't work for just one company, but instead, you can work for any company that is willing to hire you. There are many advantages to this.
For example, if you find out that one of the companies has more work than they can produce, then you can go and ask them if they know of any other companies who may be looking for help as well. It will also allow you to focus on what kind of job you want so that there is no chance of being overworked or underpaid.
Some people will prefer another option such as getting a job at an architectural firm and working their way up from their home.
Conclusion
Having a good knowledge and professional experience in CADD Software application is a big advantage for you to earn good money from Auto Cad. If you are jobless don't waste your time. Start working on it, and invest some time in search of the above-mentioned options.
Hopefully, you will find something good. It is a good opportunity for you to learn and make money, by staying at home and without any investment or very small investment. All you have to do is be patient and focused.
Thanks for reading this article I hope you find it interesting and informative. Please leave comments about this article and let me know your story. Best of luck you guys, check out some frequently asked questions by our readers.
FAQs
What is CAD outsourcing and how can it be used to make money?
CAD outsourcing is a process in which design is done externally by an outside company and then sent to the CAD designer for refinement. This allows companies to save time and money in their workflow, as the design is typically done by an expert that specializes in one particular field.
What are the best practices for CAD outsourcing?
The trends in CAD outsourcing are changes in the way companies use, manage, and outsource their CAD work. There has been a shift towards cloud-based solutions as well as an increase in speed and accuracy.
What are the trends in CAD outsourcing?
In the past, companies would use CAD outsourcing to increase productivity and reduce costs. However, with new technological advancements in CAD software, there is less need for CAD outsourcing. There are also a number of other factors that have contributed to the decline in CAD outsourcing, such as a more globalized and digital world.
How can I get a job in AutoCAD?
If you are looking for a job in AutoCAD, the following steps might help: Browse jobs on Indeed.com Read some of the public information and also contact the company that posted the job Find out what skills and experience they're looking for
Is CAD drafting a good career?
CAD drafting is a skill that can be used in many different careers. Some common careers include architecture, engineering, and the automotive industry. The cost of CAD drafting is relatively low compared to other careers, and CAD drafting can be an easy way to earn a living.
How much do CAD designers make?
The CAD designer's salary varies depending on the region and company. In most areas, a CAD designer makes an average of $81K per year. The median salary for a CAD engineer is $95,000.
How much should I charge for CAD drawings?
This is a difficult question to answer because it depends on so many factors. The most important factor to consider is the complexity of your drawings, which in turn determines how much time and effort it will take for the client to complete them. The next factor is the size of your drawings, which will determine how much you should charge.
For example, a simple CAD drawing with few dimensions can be completed in hours and should cost around $30. If you draw a complex CAD drawing with many dimensions, it will take the client days or weeks to complete. It is appropriate for you to charge $50 to $100 for such a drawing.
You can make even more money by charging the client per hour or day rather than a flat fee. For example, if you charge $60/hour for a CAD drawing that takes you 10 hours to complete, the client will end up paying $600. If you charge by the day, it would be more like $300.
Can I sell my AutoCAD license?
You may be able to sell your Autodesk AutoCAD software license in certain circumstances.
Why is AutoCAD so expensive?
AutoCAD is so expensive because it has a lot of features, is complicated to use, and has a steep learning curve. The software can be very costly if you don't have the time or budget to learn the software and use it.
Is AutoCAD in high demand?
There are many fields that call for the use of AutoCAD. With demand so high, it can be hard to find people who have experience in this field and thus may require training.
Can CAD drafters work from home?
The short answer is yes. The long answer is, "yes and no." Yes, you can work from home as long as you are physically able to do so. No, you cannot work from home if you are not physically able to do so, such as if you have a disability that prevents you from sitting, standing, or moving around.
Where can I sell my CAD drawings?
There are a number of places you can bring your CAD drawings to sell them. You'll want to find a place that is reputable and has good customer service before selling your designs.
How much do freelance CAD drafters make?
A CAD drafter's salary can be anywhere from $25,000 to $100,000 per year.
How do I become a freelance AutoCAD drafter?
Becoming a freelance AutoCAD drafter is not an easy process, but it can be done by taking certain steps that will help you land the job. There are many paths to take to get your foot in the door, and each will require a different type of experience. The first step is to find the best path for you by looking into which jobs you have experience with already.
What type of drafter makes the most money?
It is difficult to make a generalization about which type of drafter makes the most money, but it can be said that structural engineers generally earn more than non-structural specialists.
Is there any option to earn money from AutoCAD online?
AutoCAD is not an online program, but AutoCAD 360 is. There are several opportunities to earn money with this product.
Can I make money from SolidWorks online?
SolidWorks is a 3D CAD software program that allows people to design and create various products from scratch. Many businesses, like engineering firms and construction companies, use SolidWorks for ideas, blueprints, and 3D models. However, as SolidWorks is a commercial program that can cost hundreds of dollars per year for each user, it is not possible to make money from this software if you create and sell 3D designs.
How do I earn money after learning AutoCAD?
If you are looking to earn money after learning AutoCAD, there are a few ways that you can do this. You might try starting your own business, or you can get hired on a contract basis as a CAD designer. You might also try selling your services on the freelance market, or you can take a job at a company that has AutoCAD software and use the program to design for them.
How do I get online AutoCAD jobs?
There are several ways that you can get online AutoCAD jobs. One way is by applying to a company directly and being employed as an employee of the company. Another way is through freelance work. Lastly, you can apply for a job through a company that you have been hired by to work on the project.
How do I earn money from home by learning Auto CAD or Revit?
A person's first step in learning Auto CAD or Revit is to sign up on a site like Udemy. These sites provide a platform for people to learn new skills and offer courses from top-ranked instructors. In these courses, a person learns the basics of Auto CAD or Revit and then can build on that knowledge as they learn more over time.
AutoCAD business license cost
If a person outsources their CAD experience to someone else and makes some of that process as capital, rather than pay in labor hours. Outsourcing with machining services remains one of the most popular ways.
AutoCAD business ideas
Before investing in any startup, it's advisable to research the existing market size, competitor prices, whether there is sufficient space for your business idea, and whether both the offering you have and what is required to be successful in the market are available. While it may look profitable to undertake an outsourcing project in a third-party country with cheap labor, there are implications that need to be read before you decide to go ahead.
What happens if you have a large project and the outsourced company is hit by an earthquake or any other natural disaster? What about your data security?
Can I earn money from drawing?
No, but you can earn money online through your artwork and have fun doing it. There are several ways to make a living as an artist. You could be a freelance artist, sell your artwork on Etsy, or trade art for handmade goods.
Can you make money off AutoCAD?
Yes. AutoCAD is a professional software for designing, drafting, and documenting engineering drawings. The company that created the software makes money by selling subscriptions to use the program, which is sometimes bundled with other software.
What are the benefits of CAD outsourcing?
CAD outsourcing can be a great way to get your designs and drawings done quickly and at a low cost. If you don't have an in-house CAD operator, you may find that it's much more cost-effective to outsource the work. How to make money online as an Architect There are a variety of ways that an architect can make money online. Some architects might find success in freelance work, while others might choose to build websites or apps. Most freelancers make money from cad jobs online.
What are the 3 best ways to make money online for Solidworks designers?
Working from home, affiliate marketing (recommended), and freelance work. How to find online AutoCAD jobs? The best way to find online jobs is by searching through freelancing websites.
What skills do I need to become an AutoCAD specialist?
To become an AutoCAD specialist, you need to have a certain skill set and experience. You should have knowledge of how to use the software and be able to work quickly with it. You should also have a good understanding of geometry, as well as the ability to use a variety of tools.
What is a certified CAD drafter?
A certified CAD drafter is someone who has been trained and educated on the use of computer-aided design software, usually using AutoCAD. Certified CAD drafters are proficient in drawing, editing, and viewing computer-aided design files.
What are the requirements to be a drafter?
The requirements to be a drafter are not extensive, but there are a few things that you should know. To be considered for drafting work, your portfolio must show that you have the following: A portfolio of five or more pieces, either in the form of a website or PDF file. The examples should be at least 1000 words each and on topics related to the drafting process. You must be able to use Autocad, InDesign, Solidworks, Revit, and Illustrator. The portfolio should include a cover letter, resume, and one page of your work.
What are the 5 benefits of AutoCAD?
Below is a list of the 5 benefits of AutoCAD in order from most to least important. Generate drawings with complex geometry and shapes. Create 3D views, by using shaded, wireframe, and hidden line views. Create 2D drawings with dimensions and annotations. Maintain a virtual stockpile of common objects for reuse. Create professional architectural documents with a variety of layouts, styles, and perspectives. Generate drawings with complex geometry and shapes. Create 3D views, by using shaded.
How can I make money from CAD at home?
There are a variety of ways that you can make money from CAD at home, but not all methods are appropriate for everyone. Some options include selling items on eBay and Amazon, doing freelance graphic design, and using your CAD skills to create a service like a logo design or website.
What are 4 benefits of using CAD software?
CAD software has a number of benefits for the user. Some of them are that CAD allows users to create complex 3D objects and can be used in different industries, such as engineering or architecture. CAD software also allows users to make changes on the fly, as well as work with multiple files at once.
How do I become a freelance AutoCAD drafter?
You need to complete a CAD drafting course in order to become a freelance AutoCAD drafter. This course is typically taken during high school or college. You can also learn on your own and take a drafting test in order to become an AutoCAD drafter.
What education and training are needed to become a drafter in construction?
A person needs to have an associate's degree in drafting or architecture, be able to read blueprints, and have knowledge of a variety of construction materials.  
How much should a freelance CAD worker charge?
A freelance CAD worker should charge around $30 per hour.