The AutoCAD system requirements are the minimum hardware and software requirements that your computer needs to run.
If you plan on using this program for smaller design tasks, then it is recommended that you have at least an Intel Core i5 processor or better along with 8GB of RAM or more.
You may also want to read:
How to Edit Multiple Attributes at Once In Autocad
Download Carrom Board CAD Block Free
Hanging Plants CAD Blocks Library Free Download
System Requirements For Windows Operating Systems
Operating System 64-bit Microsoft® Windows® 10. See Autodesk's Product Support Lifecycle for support information.
Processor Basic: 2.5–2.9 GHz processor
Recommended: 3+ GHz processor
Memory Basic: 8 GB
Recommended: 16 GB
Display Resolution Conventional Displays: 1920 x 1080 with True Color
High Resolution & 4K Displays: Resolutions up to 3840 x 2160 supported on Windows 10 (with capable display card)
Display Card Basic: 1 GB GPU with 29 GB/s Bandwidth and DirectX 11 compliant
Recommended: 4 GB GPU with 106 GB/s Bandwidth and DirectX 12 compliant
Disk Space 10.0 GB
Network See Autodesk Network License Manager for Windows
Pointing Device MS-Mouse compliant
.NET Framework version 4.8 or later
System requirements for AutoCAD 2022 for Mac
Operating System Apple® macOS® Big Sur v11
Apple macOS Catalina v10.15
Apple macOS Mojave v10.14
Model Basic: Apple Mac Pro® 4.1, MacBook Pro 5.1, iMac® 8.1, Mac mini® 3.1, MacBook Air®, MacBook® 5.1
System requirements for Mac OS operating systems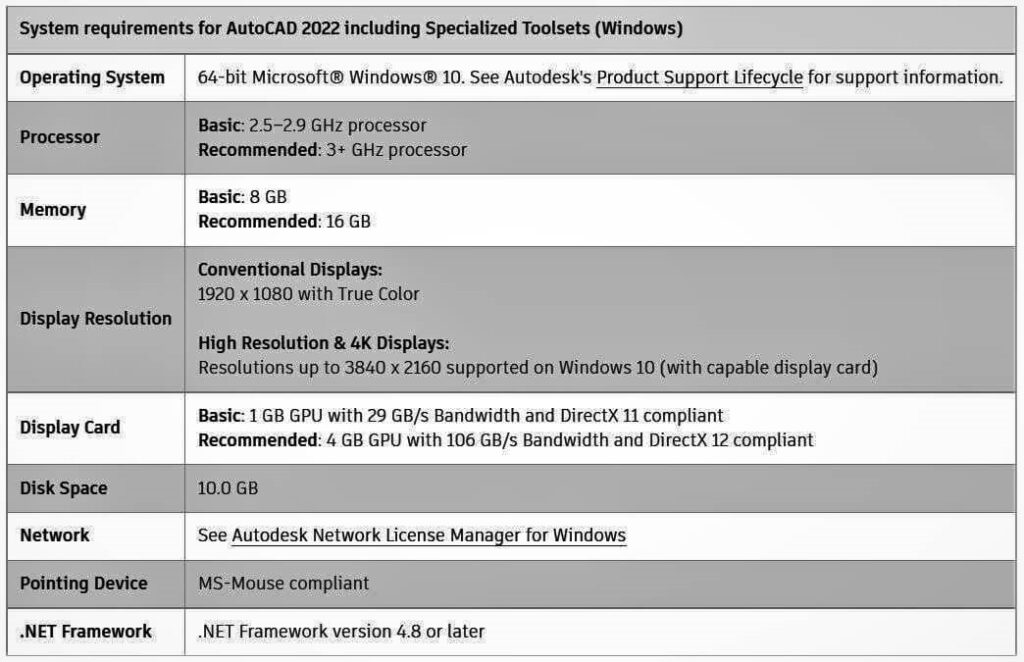 Recommended: Apple Mac® models supporting Metal Graphics Engine
Apple Mac models with M series chip are supported under Rosetta 2 mode.
CPU Type 64-bit Intel CPU
Recommended: Intel Core i7 or higher
Memory Basic: 4GB
Recommended: 8GB or higher
Display Resolution Basic: 1280 x 800 display
High Resolution: 2880 x 1800 with Retina Display
Disk Space 4 GB free disk space for download and installation
Pointing Device Apple-compliant Mouse, Apple-compliant Trackpad, Microsoft-compliant mouse
Display Card Recommended: Mac native installed graphics cards
Disk Format APFS, APFS(Encrypted), Mac OS Extended (Journaled), Mac OS Extended (Journaled, Encrypted)
Additional Requirements for large datasets, point clouds, and 3D modeling
Memory 8 GB RAM or more
Disk Space 6 GB free hard disk available, not including installation requirements
Display Card 3840 x 2160 (4K) or greater True Color video display adapter; 4G VRAM or greater; Pixel Shader 3.0 or greater; DirectX-capable workstation-class graphics card.
Autocad 2022 System Requirements
The system requirements for AutoCAD 2022 are listed below.
CPU: Intel Core i5 @ 2.3 GHz or AMD FX
Memory: 8 GB RAM
Hard disk space: 3 GB free hard drive space
Display: 1,280×800 screen resolution
Please keep in mind that AutoCAD 2032 requires a 64-bit operating system. If you are unsure of your computer's specs, please contact your computer's manufacturer.
The simple, straightforward language is easy to understand and appropriate for a second-grader.
Windows:
In order to run Autocad, you will need a 64-bit Microsoft Windows 10 operating system with at least 2.0 GHz processor and 8GB RAM. You can also use a 32-bit version of the same Operating System by installing compatibility mode on your computer's hard drive before running it for this program.
Processor:
The Autocad 2022 system requirements are based on the processor. Basic models require a 2.5–2 Intel or AMD compatible central processing unit (CPU).
However, these specs can vary depending on how many cores and threads your CPU has as well as its speed rating (e.g., 4-core vs 8-threads at 3 GHz).
This guide covers the requirements for Autocad 2022, which is one of the most recent versions. It also includes information about how to set up your system and get started withdrawing in this software package.
Memory:
The Autocad 2022 system requirements are 8 GB of memory. The operating systems with which the software is compatible include Windows 10, Windows 7 and Vista (32-bit), XP (32-bit), or Linux Mint 18/19/20. To run AutoCAD you need to have a processor that has four cores.
Display:
Autocad is a powerful 3D modeling software that lets you build anything imaginable. It also comes with the ability to import and export files in various formats, which makes it versatile enough for any type of project or workflow.
The system requirements are significant because they can vary depending on what kind of projects people want to run on the computer (e.g., animations vs engineering drawings).
The user would need at least an Intel Core i5-6600K CPU running at 3200MHz with a dedicated video card of at least Nvidia GeForce GTX 980 to run Autocad.
Autocad 2022 comes with a lot of new and improved features that you can enjoy. It also includes the latest CPU requirements, which makes it easier for people to use Autocad.
The recommended specification is:
Display: 1920 x 1080 with True Color;
Displays resolutions up to 3840 x 2160 supported on Windows 10 (with capable display card);
Display Card:
The Autocad 2022 System Requirements are as follows:
CPU with the following minimum requirements
Intel Core i3-4160 @ 3.60 GHz, AMD FX 4300 @ 4.2 GHz or better
Display Card : 1 GB GPU with 106 GB/s Bandwidth and DirectX 12 compliant
Pointing Device
The following are the Autocad 2022 System Requirements:
CPU
The minimum RAM Required is 4 GB. For Windows 7, 8, and 10 it's 6GB or more.
On Vista with SP2 or later you need 16 GB of RAM minimum to run 32-bit versions of AutoCAD 1922/23/24/25 in 64-bit mode.
AutoCAD system requirements
The minimum requirements for AutoCAD are:
64 Bit Windows 10 or 8.1-mac OS X Yosemite (10.10) -Mac OS Sierra (10.12)-64 bit Ubuntu 14.04, 16.04, and 18.04 LTS
2 GB of RAM
Intel Core i3 processor or better – 8 GB of disk space
Best Laptops for CAD Software
Regardless of what operating system you use, the hardware requirements for CAD software are going to be pretty similar. In general, a laptop will have a processor that is at least as powerful as an Intel Core i5-7200U or AMD A8-9600P.
It will also need 4 GB RAM and at least 15GB of HDD space available. Depending on the type of model you purchase, it may or may not require a dedicated graphics card with 2 GB memory.
The following are some of the best laptops for CAD software.
Lenovo Thinkpad T480s
ASUS ZenBook Flip 14
Dell XPS 13
If you are looking for a laptop to use with CAD software, there are a few factors you should consider. First, the screen size is an important factor because it determines how large your drawing area will be.
Second, the area of the laptop you intend to work on is important because it determines how much room your design will take up and how large or small a computer monitor you need to use.
Third, the price is also a factor to consider because you may need to buy a new laptop in order to work on software that requires certain specifications.
FAQs
What is the best computer to run AutoCAD?
The best computer to run Autodesk AutoCAD is a computer with a powerful processor that has at least 8GB of RAM and an SSD. Moreover, I've already covered all the essential things in this Autocad CPU requirements and setup guide article.
Which graphics card should I specifically pick?
The graphics card you should pick depends on your budget and the type of game you want to play. If you are looking for a high-quality GPU, I would recommend getting an Nvidia GTX 1080 Ti. If you want to save money and still play high-quality games, I would recommend getting an AMD RX 480 or Nvidia GTX 1060.
How to install AutoCAD?
The first step to installing Autodesk AutoCAD is to download the installer file. From there, an installation wizard will walk you through the process of installing and configuring your copy of AutoCAD.
What is the best computer for AutoCAD?
A computer built for doing AutoCAD is a good choice. A desktop computer with a fast processor and a large amount of memory, as well as storage space, will be able to create intricate 3D designs.
What is os best for Autocad?
An operating system is a software that manages computer hardware resources and provides common services for use by applications. The term can refer to a complete, standalone operating system or an embedded operating system.
Which processor is better for Autocad?
The Intel Core i7-7700K is better than the AMD Ryzen 7 1700X.