If you want to change your background color in Autocad, you will need the following guide to help you out. You need to know about the features of the program, and you want to know how to change your Autocad background. This guide will show you how.
You might have noticed that the default background color of the AutoCAD interface working area is not black. It might be eye-aching for some of the users, and if you want to change the default background color in AutoCAD to some other color, follow the steps below;
Change the Background Color in AUTOCAD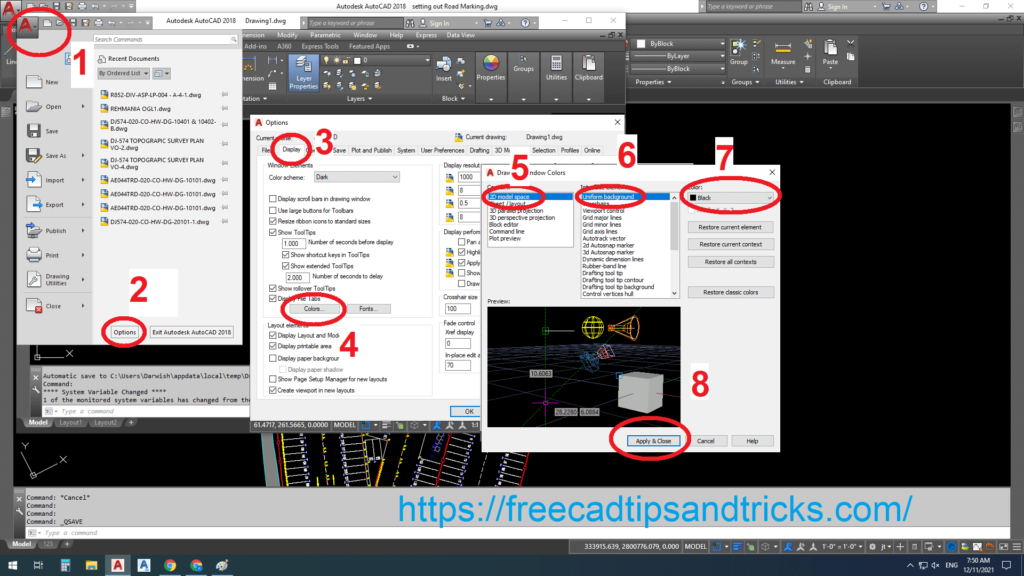 Click Application button A > Options.
Select the Options button.
In the Options dialog box, Go to Display.
Click the Colors button.
In the Context list, select 2D  model space.
From the Interface Element list, select Uniform Background.
On the Color list, select the color that you want to use.
The other option is to right-click in the model space and click the options button to access the Options dialog box. The Colors button is on the View tab. To change to a different background color, choose the Color button. 
You can change the background color of your drawing by clicking on the program button in the upper left corner and going to the options button. It will open a new window that pops up. Go to the Display tab and click on the Colors button. The drawing Window Colors palette opens up. This is where you can change the color of almost every element of the AutoCAD interface. On the left side, you can select the context of your desired element. In our case, we will change the color for the 2D  model space background. We will select a 2D  model space background from the context list. Notice that all the elements in this interface are listed on the right side. Here, you can change the color of the Uniform Background, Crosshair, Viewport Control, Grid Lines, and many others. Select Uniform Background and click the Color drop-down button on the right. Select your desired color and notice the change in the preview window below.
In AutoCAD, you can change the background color to white or any other color you like.
Similarly, you can change the background color of the Sheet/Layout and Block Editor background.
Changing the background color is a simple matter of using the OP command.
You don't have to make a complicated process of changing colors in Autocad. It is really simple.
If you want to restore the colors to default, use Restore Current Element or Restore Current Context. There is a nice option for old-school AutoCAD users to change the AutoCAD interface colors to classic mode.