16+ Top AutoCAD Online Courses Free CAD Tutorials
Are you a beginner looking to learn how to use CAD for your studies or career? Here are our recommendations for getting started with CAD and some tips for finding free AutoCAD courses. How is AutoCAD used? Professionals across many industries use AutoCAD to do everything from designing and building drawings and technical documentation.
AutoCAD is a powerful, advanced, and highly-used drafting program. In this post, we will show you a collection of our favorite free tutorials to help you learn the basics of AutoCAD. This post will answer your query if you can learn AutoCAD on your own.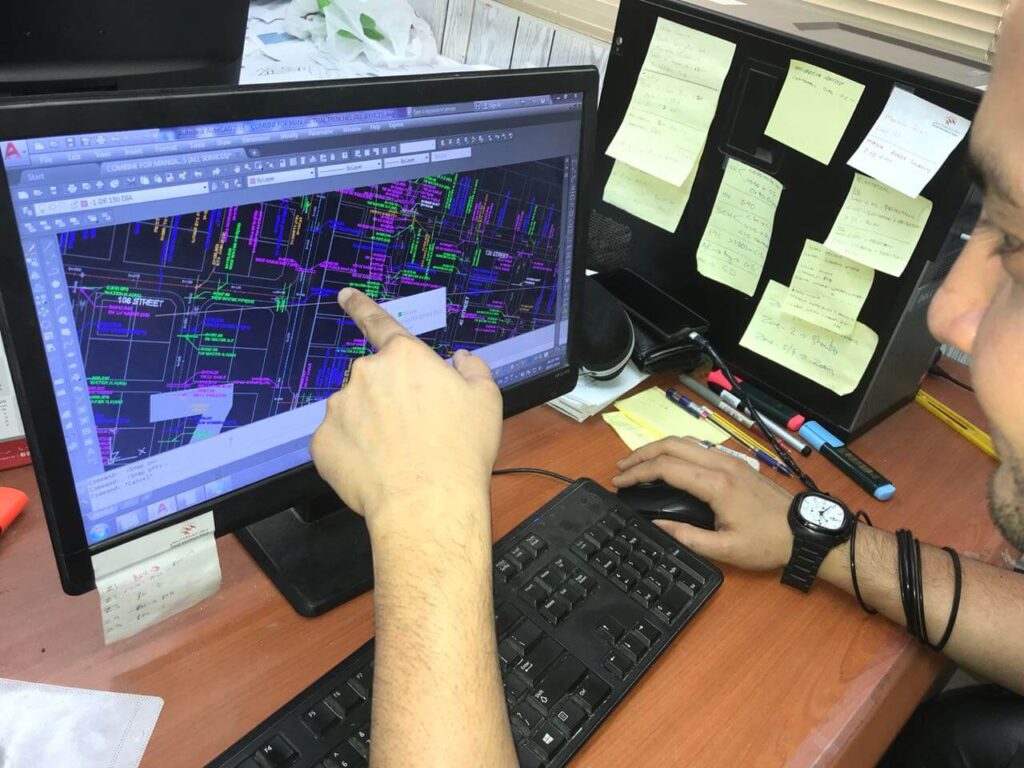 There are many free auto CAD tutorials online. However, they are usually very basic. Most are not helpful when it comes to teaching someone the basics of drawing and building. The best tutorials provide you the ability to proceed with your learning without spending a lot of money. This article will provide you with a list of the top auto CAD tutorials you should consider enrolling in. Check out these 20+ websites to learn AutoCAD for free.
Pro Tip: Start by learning the basics of AutoCAD. The following courses and tutorials are a great place to start because they offer the basics over step-by-step intructions. After that, you can move onto YouTube tutorials or find a friend who knows how to use AutoCAD. (Rizy)
The most amazing thing is you can enroll for a certification in AutoCAD online courses. Top-notch online educational platforms offer these courses. And at the end of the course, you will earn a certificate too.
Some Relevant Posts:
Download Free Lisp Files For Interpolation Slope Gradient X Y Intersept
Download Free AutoCAD Lisps for Surveyors
AutoCAD blocks Doors Windows Gates and Curtains Free download
Download Carrom Board CAD Block Free
What Do AutoCAD Tutorials Cover?
Introduction to Course AutoCAD interface
Use the exercise files shared with the course
Introduction to AutoCAD interface
Learn How to use Ribbon and panels
Learn to Draw Simple Geometry with basic tools and commands
Learn and practice basic commands like Lines, arcs, and circles
Learn the drawing commands Polylines, polygons, and splines
Draw 2D objects
Zoom and Pan: Learn how to use them
Learn how to Annotate commands
Use of text commands in Autocad
Learn to create Dimension styles
How to annotate dimensions in AutoCAD drawings
Use of AutoCAD tables
Introduction and tools for 3D modeling
Drawing 3D objects
Rendering 3D objects
Create a title block
Learn the page setup
Find out how to add new layouts and viewports to AutoCAD drawings
Use Annotation scaling
Printing your drawings.
What are the Benefits of Learning AutoCAD?
Now that you know what AutoCAD is and what it can do, we can look at some of its benefits. If you want to become better at designing buildings and drawing plans, AutoCAD will help you do that. You can use AutoCAD to make models and drawings and use those as the basis for your designs. You'll be able to design all kinds of things. AutoCAD can be used to make electrical diagrams and architectural designs.
Why should I learn AutoCAD?
AutoCAD is a powerful tool for designers and architects. If you need to draw some objects, you can use AutoCAD to do it. It's extremely useful for creating floor plans, blueprints, etc. There are plenty of free courses on YouTube that teach AutoCAD.
Become proficient at AutoCAD by completing online courses, completing assignments, and asking questions to the instructor.
List of Free AutoCAD Tutorials and Courses Online
Below is a list of free AutoCAD online courses with helpful classes to help you learn AutoCAD professionally.
1- Autocad – Complete Tutorial for Beginners
Whether you're a beginner, intermediate, or advanced user of Autocad, this tutorial for beginners in Autocad will show you how to get started with the basics and start designing your own projects from scratch.
2-AutoCAD 2021: Learn by Drawing (Udemy)
A fast-paced introductory Autocad course is intended to help people interested in art and drawing. 2 hours long AutoCAD free tutorials are good for getting a headstart. During the course, you can also sketch small assignments that revolve around the meaning of each icon while providing some professional tips through them. Enroll in this AutoCAD online training to enrich yourself with working drawings and trainers' tips and tricks.
Get the course
3. AutoCAD: Tips & Tricks (LinkedIn Learning)
Instructor Shaun Bryant, a certified AutoDesk instructor, presents this Lynda course series. Several tips and tricks will help you make full use of AutoCAD every week, according to Shaun. LinkedIn Learning is a great platform to learn AutoCAD free from certified instructors.
These AutoCAD free tutorials are focused on tips, techniques, and workarounds to make you more effective and productive. This course is one of the best of its kind to learn how to become an expert in CAD. Work smarter and not harder with AutoCAD.
Get the course
4. The Hitchhiker's Guide to AutoCAD Basics (AutoDesk)
This is from the Autodesk user guide. Anyone who gets their first copy of AutoCAD should take the map-guided course to help them learn it quickly. AutoDesk discussion groups are open to registered users. 
AutoDesk, the company that makes AutoCAD, created this course.
This document is a great resource for those who have just completed their training or to refresh their memory if they only use AutoCAD occasionally. The commands are grouped together according to types of activity and arranged to follow a general workflow. This is one of the good online AutoCAD courses online.
Get the course
5. 60 AutoCAD Tips in 60 Minutes (AutoDesk)
As the name suggests, this course is an hour long and has 23 downloadable handouts. This course aims to reduce the number of steps and make AutoCAD work more efficiently with fewer tips. If you're looking for a way to make your workflow more efficient, come here after studying some basic details about the program. 
Get the course
These AutoCAD free tutorials are focused on tips, techniques, and workarounds to make you more effective and productive. This course is one of the best of its kind to learn how to become an expert in CAD. Work smarter and not harder with AutoCAD.
6. AutoCAD 2020 Essential Training (LinkedIn Learning)
 In this course, Instructor Shaun Bryant will build on the basics you learned to give you the skills you need to use AutoCAD in any industry. This course can help you learn AutoCAD by mastering the basics. We will, therefore, refer to this as a course for intermediate users. 
Exercise files are included in the course, along with other helpful resources. There have been more than 50,000 learners who have benefited from supplemental course instruction.
Get the course
7. AutoCAD Mechanical Tutorial Course in Hindi For Free
Join this course if you are looking for a course designed for beginners who want to learn how to use AutoCAD. You can learn AutoCAD in Hindi from beginner to advanced level with LearnVern. This free tutorial is designed for students who want to learn all of the essentials about 2D and 3D AutoCAD and become experts in civil engineering CAD software implementation. You'll need a working knowledge of drafting and design principles to get the most out of this instruction for intermediate to advanced students and users.
Get the course
8. AutoCAD 2020 Advanced And Comprehensive Training
This 3.5-hour course will teach you everything from creating 2D drawings to developing manufacturing drawings. Developing manufacturing drawings will not take you by surprise! The students will learn the commands quickly and easily. They will be able to apply them in real-life work. At the end of this AutoCAD course, you will get a certificate for free.
Get the course
9. AutoCAD 2D and 3D practice drawings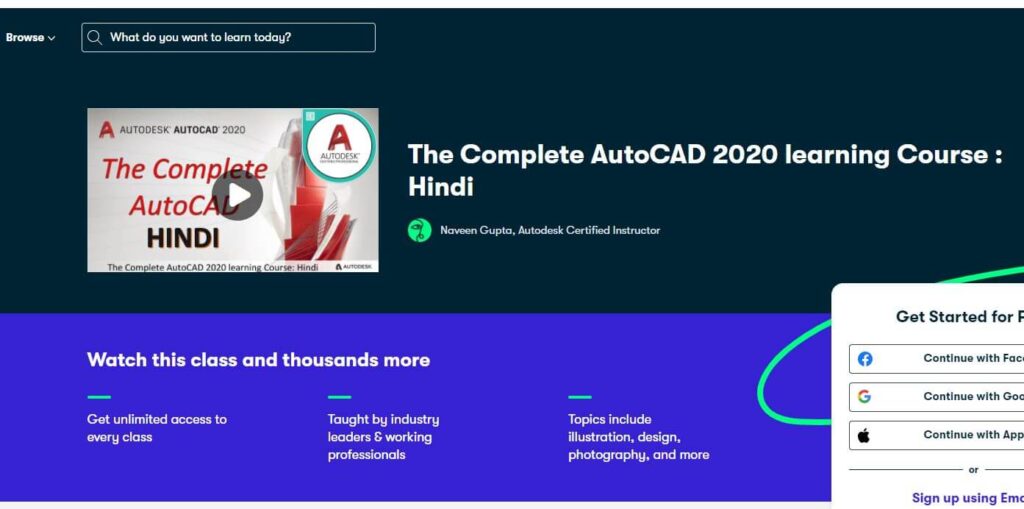 In this 6-hour course, you will learn how to make 2D and 3D engineering drawings and some representation drawings. The lessons include 2D sketching, 3D conversion, and rendering. The course has four major sections: Basics, Drawing Basics, Advanced Drawing & 3D.
This is one of the best free AutoCAD online courses with certificates.
Get the course
10. AutoCAD Course – From beginner to Certified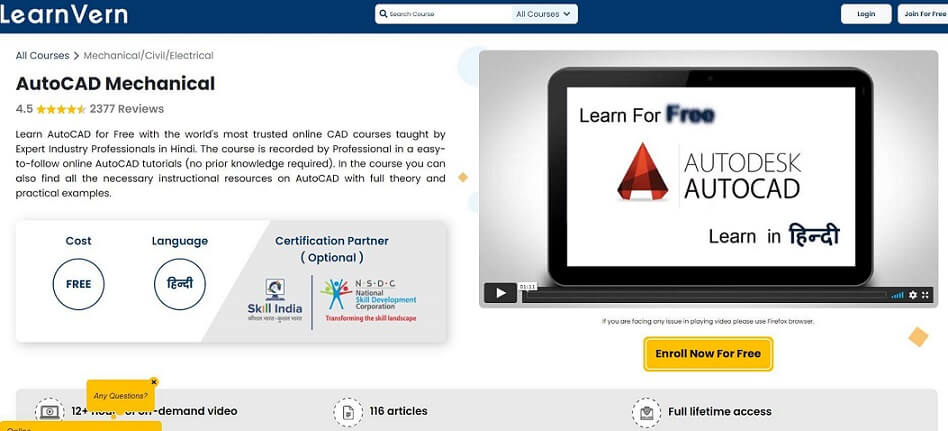 This one-hour AutoCAD class is for everyone, whether you're a beginner or a professional. It was made to make everyone master all of the functions from A to Z. The course duration is 1 hour with a free certificate.
Starting out should be fun. Learning something new is great, but you also want to have fun with it. If you're not having fun, you are going to forget things, and you'll lose motivation.
Get the course
11. The Complete AutoCAD 2020 Learning Course
This AutoCAD course covers drawing setup, fundamental construction and editing tools, layer management, object properties, text and dimensions, and many more. 2 hours of free AutoCAD tutorials are a good source to Prepare for the AutoCAD certification exams.
Get the course
12. Get free video training in AutoCAD – Best AutoCAD Course Online.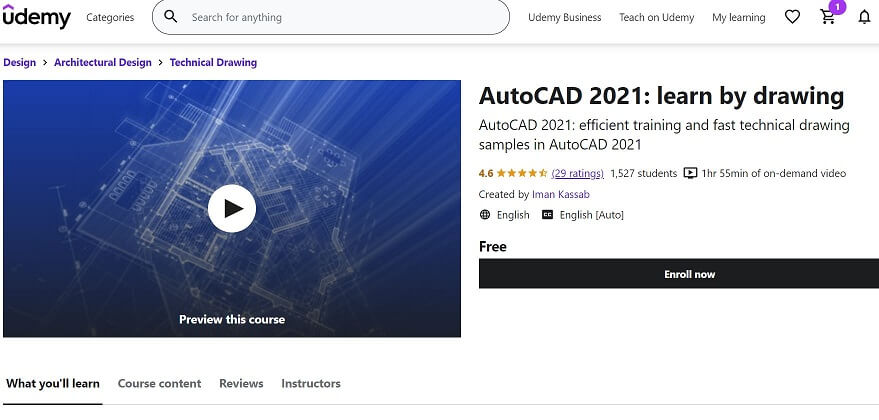 A wealth of free tutorials and free classes are available at the Autodesk Design Academy. You can find documentation, tutorials, videos, and troubleshooting resources related to AutoCAD.
This course is one of the best answers to your question about how to start learning AutoCAD free online. 
Get the course
13. Learn AutoCAD Electrical Video Lecture FreeDuration: 4 hours
Having a good understanding of the AutoCAD Electrical video lectures will help you to create a good AutoCAD electrical schematic. The AutoCAD electrical video lecture is critical for anyone who is a mechanical engineer or someone who wants to become a mechanical engineer. If you want to become a mechanical engineer, it is important to understand all the basic concepts so that you can know what to expect as a mechanical engineer.
Get the course
14. AutoCAD Comprehensive Training Lectures Free
This course is first on our list of free AutoCAD courses online. A step-by-step free AutoCAD tutorial for everything you need to know about 2D drawings. This 15 hours of video course is best for beginners and experts to upgrade their skills. This course will ensure that you are not left on the back foot when it comes to developing manufacturing drawings.
Get the course
15. Free AutoCAD Video Tutorial Series
Learning AutoCAD with the source ad is easy. If you're looking for quality auto CAD video training, you can use the thsoursecad.com website to find out what videos they have for free. You can also find videos on AutoCAD online and download them. The practice drawings are also included in this course. 
Over 70 free video tutorials to give you a quick start in 2D  and 3D drawings.
Get the course
16. AutoCAD: The Full Complete Guide You Need (Skillshare)
As for the price, a free trial for AutoCAD students is allowed. You will enjoy the free AutoCAD training courses.
The main things covered in these free AutoCAD courses are 2D design, an introduction to 3D design, annotations, layout groups, surfaces, layers, mesh objects, and rendering. 
Get the course
17. AutoCAD Electrical From Beginner To Expert
Learn AutoCAD Electrical with Introduction and Wires to ACADE Panel Layout. Professional engineers design the course to empower the students with challenges in the field. You will get a free AutoCAD certificate after the 3.5-hour course.
Get the course
AutoCAD Classes Near Me
To find AutoCAD classes near you, you should use the search engine on your computer to see which classes are nearby.
There is a possibility that you might encounter related topics when searching for "AutoCAD classes near me.".
You can also use area-specific terms to Google the nearest AutoCAD classes, i.e.
Where to learn AutoCAD in Ibadan?
Where to learn AutoCAD in Port Harcourt?
Where to learn AutoCAD in Singapore?
Where to learn AutoCAD in Abuja?
Where to learn AutoCAD in Lagos?
Ultimately, that is what you seek.
Frequently Asked Questions.
How to Learn AutoCAD Online Free
Download the AutoCAD free student version and enroll in any of the above courses. Learn the basics and keep practicing to enhance your skill set.
Learn AutoCAD online for free to start working in the field of architecture and design. With professional training and free resources, you can learn to use AutoCAD and design your own architectural designs. To learn AutoCAD online for free, you need the right knowledge and support.  
Can I Get AutoCAD Certification Online?
Yes, you can. The AutoCAD community has made a great tool for beginners. Autodesk Academy and Udemy are the #1 online AutoCAD training hubs. They offer step-by-step tutorials with detailed step-by-step videos. There is a whole library of tutorials to learn at your own pace. Industry professionals have created thousands of tutorials so you can take advantage of the power of AutoCAD. You can also connect with the Reddit AutoCAD learners and instructors community by using the r/AutoCADTutorials handle on Reddit.
How to Learn AutoCAD in Mobile Free?
We can learn AutoCAD on mobile by watching free videos and courses on YouTube or Udemy.  There are a lot of different ways you can learn AutoCAD online. The best way is to watch tutorials from the people who know the software best. The best way to learn AutoCAD is to take a course from a reputable business that knows the software well and has a good track record of helping people learn to use AutoCAD. There are a lot of courses online that you can take for free. The best way is to take a class from a business that knows the software well.
How to Learn AutoCAD Fast and Easily?
The best way to learn AutoCAD quickly will also consider a student's skill level: There's no sense in wasting time on material you've already mastered, so if you already have a handle on the basics, you'll want to choose an intermediate or advanced course.
The following lines will also answer the question: How and Where Can I Learn AutoCAD? The fastest way to learn AutoCAD is from a professional instructor in a particular field. Follow these steps to learn AutoCAD fast. 
Find an online AutoCAD course or join a good quality institute for AutoCAD in your area.
Study AutoCAD in the presence of a certified professional instructor. Try to explore each and every detail of the software.
After finishing the course, get a completion certificate from the institute.
Use as many online and offline resources as possible to enhance your AutoCAD skills.
YouTube is one of the best resources for AutoCAD classes online.
Start practicing on your own, and draw dummy projects for your portfolio.
Find any firm in your field and join as an internee. Show your dummy projects as your portfolio.
Use your knowledge at your job and make bonds with your seniors.
Learn from your seniors to enhance your skills.
If you are interested in a specific field and want to excel in that field, use the specific searches in Google. Try these;
How to learn AutoCAD for civil engineering
How to learn AutoCAD for mechanical engineering
How to learn AutoCAD for landscape design
How to learn AutoCAD for architecture
How to learn AutoCAD for engineering
How to learn AutoCAD Electrical
Copy and paste in Google, and you will get your desired query results.
If you are very specific about learning AutoCAD in your own specific language, use the following terms;
How to learn AutoCAD in Tamil
How to learn AutoCAD in Telugu
How to learn AutoCAD in Hindi
How to learn AutoCAD in Sinhala
how to learn AutoCAD in Bangla
Where to learn AutoCAD in Ibadan
This is how you can learn AutoCAD the fastest way you will learn the software very soon. Just keep yourself motivated and up for helping others.
How Hard is it to Learn AutoCAD?
AutoCAD is not a difficult software to learn. you can learn AutoCAD faster with a proper video tutorial or even using AutoCAD beginners pdf workbook.
How To Learn Autocad in A Short Period of Time?
How Much Time is Required to Learn AutoCAD
You can learn AutoCAD in 2 months if you are a quick learner and put in at least 4-8 hours a day. AutoCAD is an easy tool and can be learned with a bit of help or by watching online courses.
How to Learn AutoCAD in One Day
You can learn AutoCAD within one day by watching the videos given below. In these videos, you will learn the basics of AutoCAD. Remember! You need to practice and give more time to the software to enhance your skills and be a professional AutoCAD draftsperson.
How to Learn AutoCAD in A Week
These videos will teach you the basics of how to use AutoCAD. You can start with basic tutorials like drawing lines or creating blocks like building a house. Work your way through the videos until you're comfortable with the basics.
How to Learn AutoCAD for Mechanical Engineering?
AutoCAD is a 3D modeling and drafting software package used in engineering and architectural work. Today, mechanical engineering students can learn AutoCAD through YouTube videos and other online learning platforms. Udemy has an AutoCAD certification course online.
The other option is to search for any AutoCAD learning institute near you and join the live classes. In most of the institutes, you will learn to draw AutoCAD 2D and 3D or interior design. free AutoCAD online training classes are one of the best ways to do it free of cost.
If you search online, you can also find AutoCAD tutorials for beginners pdf books to learn AutoCAD.