This article focuses on the new features and improvements in AutoCAD 2020 including the new Quick Measure, dark theme, a new Blocks palette, and many more.
I'm JTCADD, one of the AutoCAD specialists here FreeCADTipsAndTricks.COM. Today I'm tremendously energized to share with you new features and enhancements packed in AutoCAD 2020 to help you design a better world and bring ideas to life.
Clarity with New Dark Theme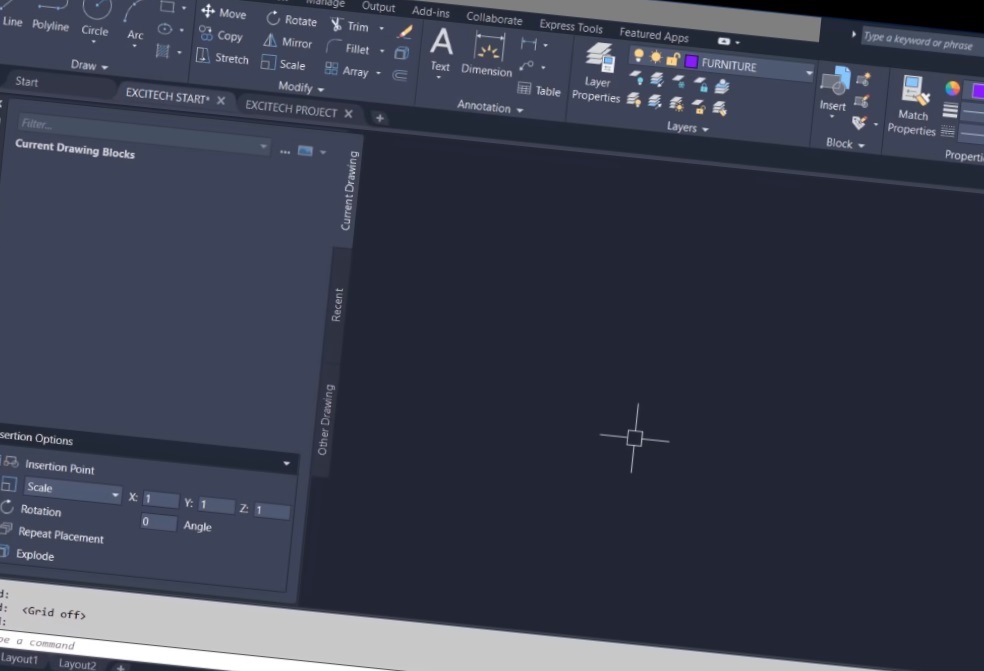 The new fascinating AutoCAD 2020 has a new dark theme with a dark blue interface.
The very first thing that we notice when we open the software for the first time is the new default color format, the dark theme. And I see most of the users prefer the default theme. AutoCAD 2020 now features an up-to-date dark blue aesthetic theme. The color scheme even extends to the title bar of the interface of the title bar, and it's not white or some other color.
Another thing that grabs our attention is that gradients are gone from contextual ribbon and Mtext. Instead, a solid color matching the default theme is seen as a background.
Inserting Blocks was Never So Easy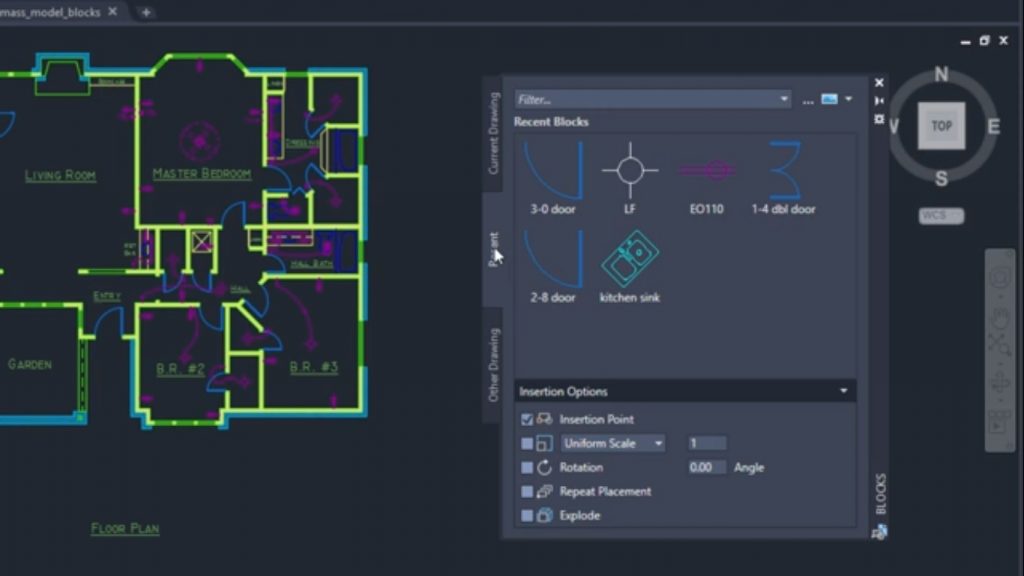 The newly introduced Blocks Palette brings a remarkable experience for AutoCAD 2020 users.
When it comes to the actual core functionality enhancements, one of the first areas we have to talk about focuses on blocks.  We all know how significant role blocks play in most AutoCAD drawings and this release of AutoCAD 2020 aims to make inserting and working with blocks even easier.
Blocks palette can be found from where all other palettes are accessed; closer to tool palette properties and sheet set manager, you'll see a new fellow here.
Just like any other palette you've used inside AutoCAD, you can keep it floating or dock it to the right or left side of the user interface.
Blocks palate allows dynamic and easy access to current drawings or recently used blocks and even blocks from other drawings.
You can choose to specify an insertion point and rotation, the scale and whether or not to explode it or not and one of exceptional feature repeat placement. You can find any block you want to insert based on the thumbnail in the blocks palette gallery, Go ahead and click on that block and place that in your drawing and you had selected repeat placement, it allows you to continue inserting as many selected blocks as needed until escape to exit is selected or pressed.
All New Quick Measure tool
The quick measure tool brings a whole new functionality much appreciated in AutoCAD 2020.
Querying things is easier as we have a new measure command inside AutoCAD. AutoCAD dynamically shows angles, distances, and measurements as you move your mouse pointer on the screen.
By using the measure command, users can hover inside the area that they want to measure and the surrounding measurements will be displayed with the cursor. It is impressive and useful as you just have to move your mouse without clicking anywhere the new AutoCAD directly detects the enclosed area and displays the dimensions in real-time dynamically.
So all you have to do here is hover over what it is you would like to measure, and it is going to give you those measurements in real time. This is the way I've frankly always wished the measure command would have worked in AutoCAD and now it does with AutoCAD 2020.
Faster Drawing Revisions in One Window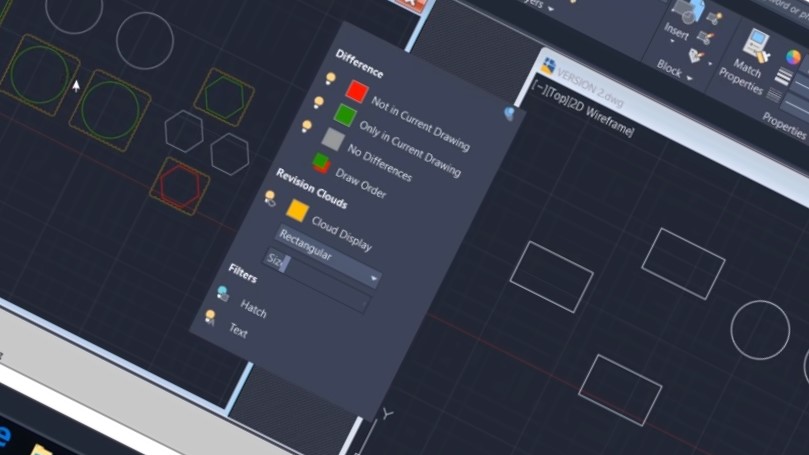 Considering user feedback, Autodesk has enhanced the DWG Compare tool and its features in the new release of 2020.
You might remember that in 2019 one of the new functionalities we had was an all-new drawing compare tool and in 2020 Autodesk builds upon that basis. By utilizing the Collaborate tab, you will find the drawing compare tool, and just like before, you can select the original version of this drawing, and AutoCAD 2020 is going to compare it to the current version and identify all of the changes.
In AutoCAD 2020, with a drawing compare tool, all of the changes are done inside the host drawing itself, and this is a terrific enhancement. This feature is also helpful for real-time analysis of any drawing. AutoCAD 2020 can perform the drawing compare analysis in real-time and show the recent change as it happens. This functionality is appreciated.
Improved Purge Command Window
Drawing cleanup is made even easier by the enhanced Purge feature. With the upgraded Purge dialogue box now, we can identify the non-purgeable items also.
We all know the importance of maintaining a clean drawing in AutoCAD, and the Purge command is central to that process. With this in mind in AutoCAD 2020, we see a new design of the purge command itself.
By using the Manage tab under Cleanup, you'll find that there are now two buttons, each opening up different parts of the Purge command.  If we start with just the basic purge command, when you open this up, you'll notice that the Purge dialogue has been redesigned, and we have an all-new layout. This is good news that solves a core problem that many of the users had in AutoCAD.  It helps to keep our drawings as clean as possible. We've all had that experience where no matter what we do there are one or two items that will not be purged from the drawing. And we can't figure out where it is used. This problem is solved with the new design of the Purge dialogue box.
If you switch to the non-purgeable items tab, it shows all of the items you cannot purge from this drawing. It means they're used in somewhere in the drawing. By picking one of the items, the Purge dialogue box shows a preview where and how that item is used. More usefully it's going to indicate possible reasons of why that particular item cannot be purged. It tells that it's inserted in the drawing somewhere and displays the objects on the screen. Moreover, in the details panel file size impact of this object is shown, how many times it's used.
You can also click the Select Objects button. This will take you to the model space and select that particular item in the drawing. Now you can merely Delete it to get rid of it. If you need to purge it just go back to the Purge command, you'll be able to purge that particular item.
So this finds non-purge-able items while we've always been able to identify non-Purge-able items the additional context that this provides us well lets the user maintain far cleaner drawings using AutoCAD 2020. This functionality should pave the way to better performing drawings.
Faster Installation
The installation process of AutoCAD 2020 is all about 50% faster than before. In a test, the average install time is around three and a half minutes, so that's a significant improvement over some previous versions of AutoCAD.
Speaking of drawing performance, one feature this year you might not notice are some of the under the hood improvements.
Improved Performance and Speed
AutoCAD 2020 takes half a second to save your drawing. To provide better performance and high quality, once you have AutoCAD installed, something else you'll likely notice is that save times are considerably improved in an average drawing.  Of course, your mileage will vary depending on the types of drawings that you're using, but you should notice that AutoCAD saves drawings far faster all in all.
Integration with Cloud Storage Apps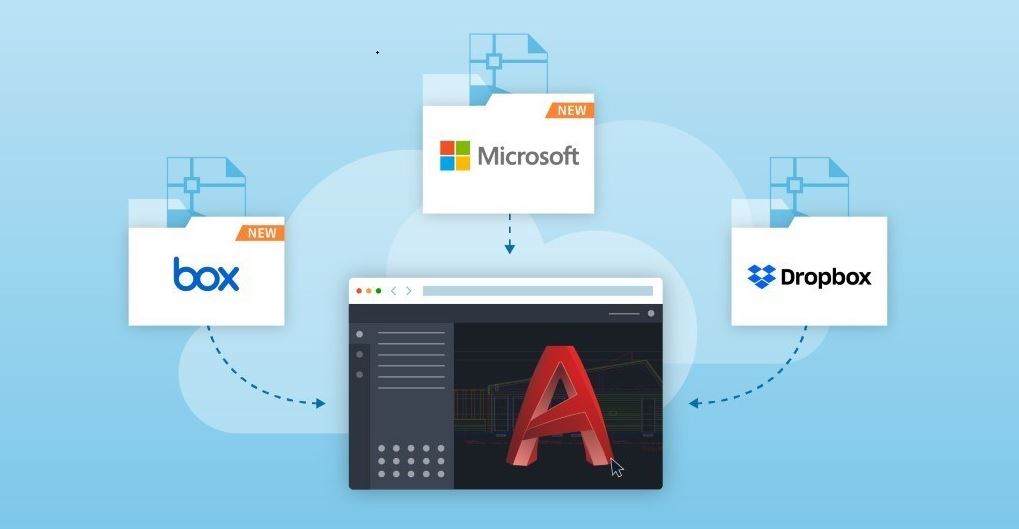 With the newly released AutoCAD 2020 now, you can save DWG files to OneDrive, Box, Dropbox and SharePoint.
AutoCAD is now integrated with OneDrive, Dropbox, Box, and multiple cloud platforms. This will be very helpful in achieving better productivity. The documents can be saved directly in the cloud by using AutoCAD 2020. AutoCAD Web App can open your drawings from cloud platforms quickly.
Any of the computers can be used to run the AutoCAD web app. You can quickly open, review and edit your drawings from anywhere without even installing AutoCAD on your computer.
This new integration enhancement will help speed up the working process with drawings.
AutoCAD 2020 is what I think to be a great release, and it includes many new features with enhancements. The desktop version is likely what you're most interested in. I should mention that the web and mobile experience is also much improved.
Download AutoCAD 2020 Today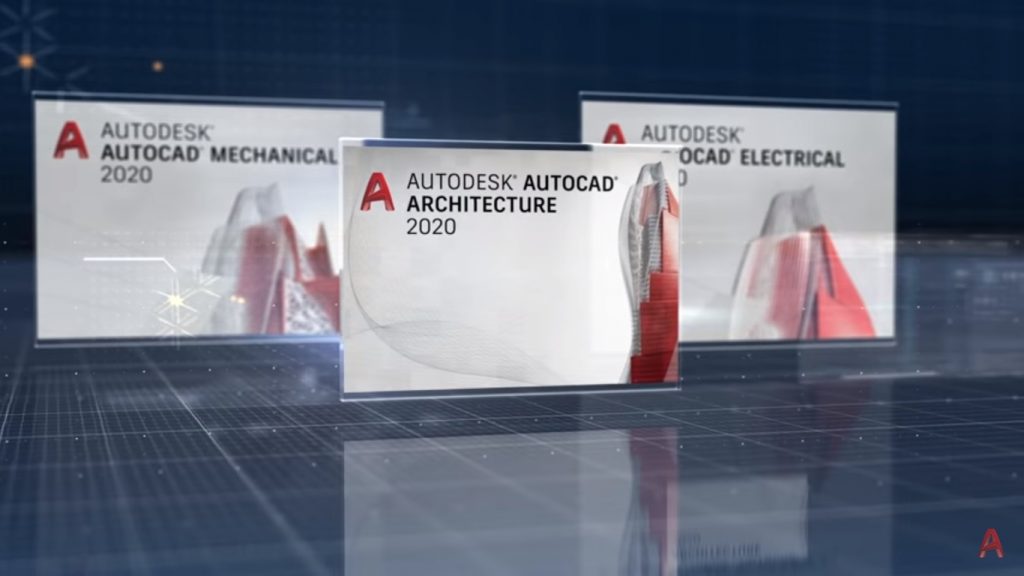 Are you ready to get your hands dirty with the new AutoCAD 2020 and its new stunning features?
As mentioned earlier, the enhancements are also available with AutoCAD LT 2020. Just get to your Autodesk Account and get your installation links of the AutoCAD 2020 right now. You can also download a free trial of 30 days to get a start.
Some Recommended Posts:
500+ Cad blocks Kitchen and Bathroom Accessories AutoCAD blocks free download
Download Civil 3D Latest Version for Free